Beware of Corona virus vaccine scams
The National Trading Standards eCrime Team warns people it's more important than ever to beware of Corona virus vaccine scams.
The warning comes as Trading Standards officers see scammers cash in on people frightened of Covid and desperate to get the jab. But also sees officers having to deal with a scam that targets just about everyone: by phone, by email, by text, or by doorstep cold caller.
Doorstep Vaccine Scams
Officers are particularly concerned about doorstep callers preying on elderly people living alone. The caller knocks, claims to be from the NHS, flashes a fake ID, and says they are there to give the vaccine. The elderly are often too trusting of strangers.
Only recently, a 92-year-old woman paid £160 to a man who got into her home by saying he was from the the NHS, and was there to give her the jab. He was caught, after returning to give her a booster for £100.
More worryingly, some door step criminals have impersonated NHS or council staff to use the vaccine as an excuse to commit distraction burglaries.
Warn elderly family and friends that the NHS would never unexpectedly knock at their door to vaccinate them. If anyone comes to the house, and asks them to pay for a jab, they should politely refuse, shut the door and report it to the police on 101.
New email vaccine scams
National Trading Standards has also seen how scammers have adapted email versions of the scam to trap people online.
The new versions of the scam force recipients to click whether they want the vaccine or not. The links in these fake NHS emails, lead to equally convincing fake NHS websites that are designed to steal the victim's money or personal details. Other emails apply pressure to their victims by limiting the time they can get the vaccine.
As a general rule, if you do get an email about the Covid vaccine, you should assume it's a scam.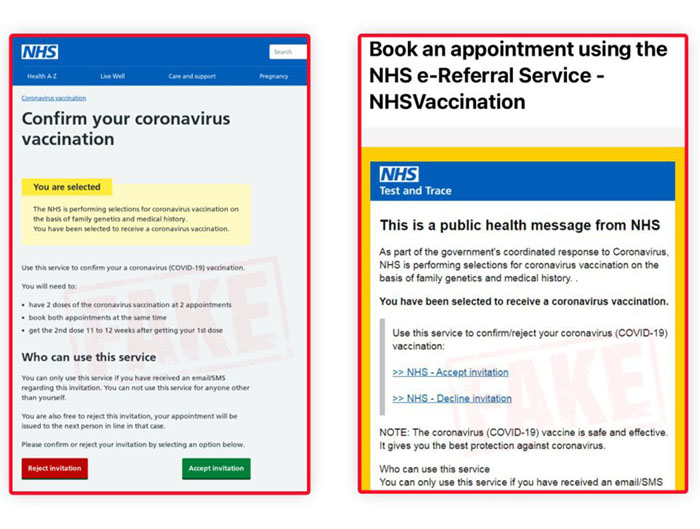 But the reality is:
You don't need to apply, because the NHS will write to you when you are eligible for the jab, and that letter will tell you what to do.
You don't need to pay, because the vaccine is free.
Finally, you certainly don't need to show anyone your passport, or show anyone any other personal documents, to prove who you are, because the NHS already knows who you are, and will not ask you for more.
Phone and text vaccine scams
Besides doorstep and email scams, there are still plenty of phone and text scams going around.
It might be a phone call for a vaccination, where someone asks you to pay, or asks for your details. But if anyone does ask, you should hang up immediately, because you are about to be scammed.
You should also hang up on any automated calls that ask you to press 1 to accept, or press 2, to reject an invitation. Calls like these should set alarm bells ringing; pressing any of those options means you will be charged premium rates to listen to details of your 'vaccine' appointment.
Of course you might get a call from your doctor's surgery, but by now you should be able to tell genuine calls from fake ones, because your surgery will only tell you where to get your jab, and will never ask for money or personal details. If in doubt, just hang up, wait 30 seconds, and call the surgery on the number in the phone book.
Turning to text messages next -- scammers know they can reach us anytime and anywhere with a text. One of the earliest vaccine scams was this scam text which is still doing the rounds: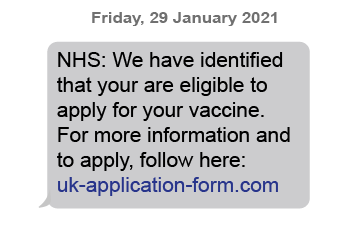 It contains some of the classic signs of phishing scams, from the mis-spelling of 'you are' as 'your' in the second line, down to the standard request to click a link for more information.
Once again a genuine text from your Doctor's surgery will not ask you to click any links, other than one to email the surgery if you don't want the jab, just like this genuine flu vaccine text below:

So what can be done about scam calls, emails and texts?
Firstly, we can all take a look at the advice given by the #TakeFive campaign. TakeFive urges us to take a moment, when dealing with any unexpected messages, to stop and think before paying any money or clicking any links.
Secondly, when ever we come across a vaccination scam or any new scam, for that matter, we should warn our family and friends about it by following the advice of the #Tell2 campaign.
Thirdly, if it is:
a scam text you can forward it to 7726 on your mobile phone. Your phone provider will know what to do with the text, and
if it is a scam email you can forward it to the National Cyber Security Centre's (NCSC) suspicious email reporting tool at report@phishing.gov.uk. The NCSC tracks the senders and analyses any linked domains, and blocks them accordingly.
Next you can report scam texts, emails, calls and doorstep callers to either:
And finally, please remember
The NHS will never:
arrive at the door unannounced
ask you to pay for the vaccine
ask you to prove your identity, or
ask for your bank details